Here's what our customers are saying about us: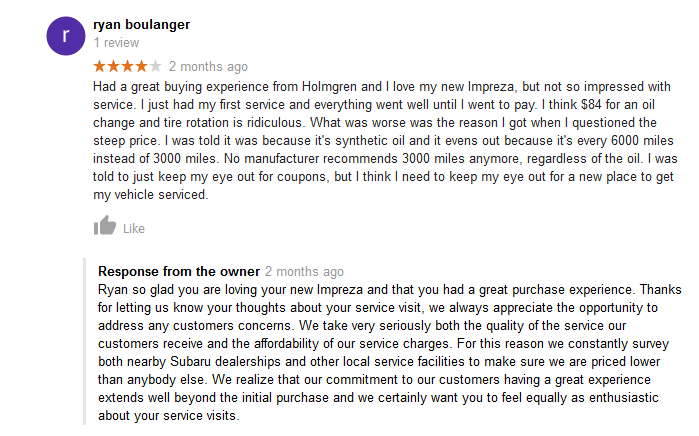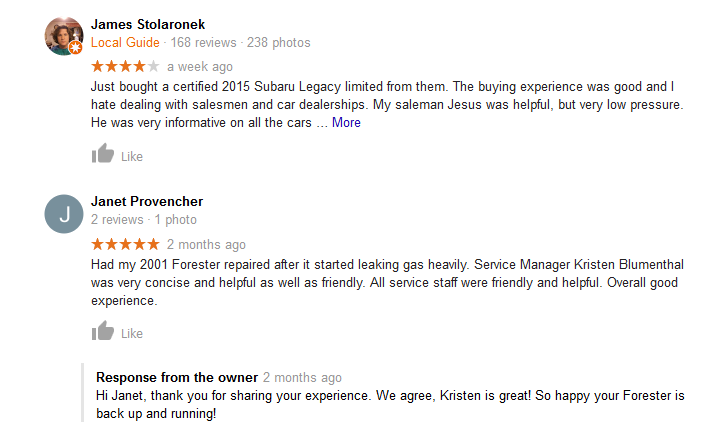 Read more reviews or write your own on:

Contact Us
Happy Holmgren Customers
There's a certain something about a Subaru vehicle that other companies just lack. It might be the standard all-wheel drive. It might be the fuel-efficient continuously variable transmission. It might even be the boxer engine. Whatever the reason, Subaru fans are some of the most passionate on the market. They know that, for one reason or another, Subaru makes vehicles that are just more fun to drive. Affordable, safe, and reliable, you just can't go wrong with a Subaru.
At Holmgren Subaru, we have some of the finest Subaru vehicles around. No one knows Subaru like we do. We have classic Subaru models such as the Subaru Legacy, Subaru Forester, Subaru Outback, and more. We make sure to provide the best possible service, which is why we have so many satisfied customers in the North Franklin, New London, Middletown, Hartford, and Norwich areas. Don't take our word for it, though; take a look at some of our customer reviews.
If you're looking for a new Subaru vehicle, we're here to help you out. Our lot is full of the finest Subaru models. In addition to our new models, we also have a robust selection of used Subaru vehicles. We have something for every customer, no matter what their price range.
Once you have found the right Subaru for you, our finance center can help you take care of the next step. We make auto finance as easy as possible, and we will help you secure an auto loan that works best for your budget. After you drive your Subaru off the lot, we can even help you take care of it in our service center. Our team of service experts know the ins and outs of everything Subaru, and they will help you keep your vehicle running as smoothly as the day you got it.
At Holmgren Subaru, we can't wait to help you out. Give us a call at (888) 710-3132 if you have any questions, or stop by here in North Franklin, CT. We look forward to your business.