The 2021 Subaru Love Promise Community Commitment Award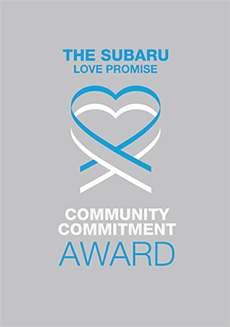 We've been nationally recognized for our dedication to our community and the Subaru Love Promise.
We're honored to receive the 2021 Subaru Love Promise Community Commitment Award. This award nationally recognizes Subaru retailers who are making the world a better place while demonstrating an outstanding commitment to supporting passions and causes in local communities. These efforts are focused in important areas such as the environment, community, health, education, and pets.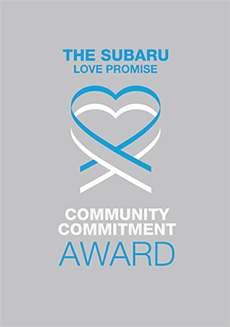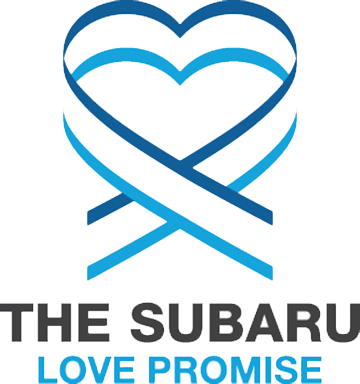 What is the Subaru Love Promise?
Subaru and our retailers believe in making the world a better place and the Subaru Love Promise is our vision of respecting all people. This is our commitment to show love and respect to our customers and to work to make a positive impact in the world.
How is Holmgren Subaru dedicated locally to the Love Promise?
Our Love Promise can be seen in various partnerships with local charities and non-profits. We're grateful for the opportunity, not only to be a part of our community, but to serve it as well.
Wings of Freedom Animal Rescue
Adopt A Highway, CT Fund for the Environment/Save the Sound
Franklin Elementary School
Community Speaks Out, Community of Hope, Holy Family Home & Shelter, Connecticut Food Bank
Sails Up For Cancer, Leukemia & Lymphoma Society, St. Jude
Love Promise Stories from Holmgren Subaru
Subaru and Holmgren Subaru believe in making a positive impact on the communities in which we live and work. We uphold that belief through our Love Promise Community Commitment. Every month, we select inspiring stories from customers and partners from around our area who strive to support our collective commitment and feature them here
Partners in Helping Those Fighting Cancer - Bob D
The best way to describe the impact that Holmgren Subaru and Share the Love, has on Sails Up 4 Cancer, is to share the comments and testimonials from the families we have helped. When SU4C receives thank you letters, we cannot help but feel overwhelmed with emotion in knowing that the small things we do together, have such a tremendous effect on those battling cancers. "I want to thank you on behalf of my patient S.K. for your generous gift allowing her to buy clothing for her children for school." "We are so grateful your Spinnaker Fund is able to help ladies such as B.H. Without your help, she and others would go without the necessities they need so badly." P.M. "The SU4C Board saved my life in more ways than one, I can't say thank you enough. Your organization are true angels and have made life less stressful and that means so much." B.D & Family "Your contribution clearly will help my father L.P. with the costs and, more importantly, brightened his day knowing that others are helping him through this difficult time." K.W. "Our mission is to *optimize the health and well-being of the people in our region, that means everyone, not just those who can afford it, and your contribution helps us do just that." VNA of SE CT "There are not enough words to express my thanks for the Spinnaker Fund Grant I received from you. I put it toward paying my mortgage for July. I have no income coming in at all and am trying to keep my house and thanks to you one more mortgage payment has been made." B.F. The above thank you notes are but a small and random sampling from the hundreds we receive. Holmgren Subaru has provided us the much-needed funding to make a difference in the lives of these people. Sails Up 4 Cancer is just the conduit that makes this happen. We cannot do it alone and achieve the same results. Simply put, we count on the financial support from community corporations to help us help others. Sails Up 4 Cancer cannot thank Holmgren Subaru enough for their continuous support to SU4C and for their help to those battling cancer. With that said, Holmgren Subaru is our most valuable community centric benefactor, and we are honored to have been a recipient of their generosity since 2012.
---
Holmgren Subaru Supports Community Speaks Out - Cheryl B
Community Speaks Out is honored, humbled and so very grateful to have received $12,500 from Holmgren Subaru from their annual Share the Love event. It goes without saying that the Holmgren Subaru family cares about the surrounding communities and the people of those communities including those who struggle with the disease of addiction. Community Speaks Out is a non-profit organization whose mission is to improve the community by providing support and opportunities to individuals and families to access recovery. Holmgren Subaru's generosity will enable Community Speaks Out to continue to support individuals and their families in so many ways such as gathering at our monthly family support group, hosting recovery activities, guiding individuals to find treatment for their disease, providing educational forums at schools throughout southeastern CT, and participating in our newly formed siblings group; just to name a few. And, the best part, this is not the first time that the Holmgren Subaru family has extended their generosity and partnered with Community Speaks Out, as they have sponsored our annual gala, too! Community Speaks Out looks forward to continuing our relationship with the amazing team at Holmgren Subaru! Thank you, from the bottom of our hearts, for your compassion, your generosity, and for helping us do what we do best: People Helping People!
---
Pet Adoption Event at Holmgren Subaru - Kathy W
On a brisk Saturday morning Holmgren Subaru hosted Wings of Freedom Animal Rescue. WOFAR, for short, is a CT-based animal rescue. We rescue and support dogs in need. With the covid regulations we have very few options where we can have outside adoption events. Adoption events where potential adopters can meet available dogs is the most effective way to find homes for our dogs who are looking for their new homes. Dawn and the team at Holmgren were the most amazing hosts - from setting up canopies to providing snacks (both human and canine) to giving our dogs toys to providing a wonderful lunch. The exposure they worked to provide made a huge difference in the number of potential adopters who attended. The day was a huge success - resulting in receiving applications for 3 current dogs, a meeting with a pre-approved adopter and a pre-approval application. Along with the great day, we are also lucky enough to find a place to have adoption events throughout the winter months - using the service bay on off days! We can't thank Holmgren Subaru enough for the wonderful opportunities and for starting what we believe will a long and wonderful relationship.
---
Holmgren Subaru Participates in Coastal Cleanup - Annalisa P
Holmgren Subaru partnered with Connecticut Fund for the Environment/Save the Sound and hosted a coastal cleanup at Dubois Beach in Stonington, CT. Despite fewer cleanups this year, due to Covid 19, Holmgren Subaru stepped up and facilitated a safe and successful cleanup effort. Masks, gloves and hand sanitizers were provided by Holmgren Subaru. We were fortunate to have an incredibly dedicated team, lead by Eric and Dawn Holmgren, along with their staff, family members, customers and community volunteers. It was a beautiful day and everyone involved was happy to leave such a lovely place, just a little more beautiful.
---
Holmgren Subaru Awards 35k to Sails Up 4 Cancer - Robert D
Sails Up 4 Cancer is beyond proud and grateful to be the beneficiary of $35,000 from Holmgren Subaru. Holmgren Subaru has always been a community-minded dealership and they have stepped up their generosity even more during this unprecedented time in our world.The Corona Virus has changed our community in many ways but hope springs eternal as we fight the battle over this virus. While fighting the Corona virus is currently first and foremost on everyone's minds, we also still have many cancer patients who need assistance from Sails Up 4 Cancer. Because of this incredible gift from the Holmgren Subaru Share the Love campaign, Sails Up 4 Cancer can continue uninterrupted grant funding through the Spinnaker fund. Financially-stressed cancer patients can apply for the Spinnaker fund to assist with day-to-day needs like groceries, rent and medical expenses. The collaboration with Holmgren Subaru and the annual Share the Love Campaign allows SU4C to provide funding for families and patients in New London county. Holmgren Subaru has been integral in the success of the Spinnaker Fund which SU4C is extremely proud of. This Fund has been specifically tailored to individuals and families suffering financial hardship as a result of the loss of income due to their struggles with cancer. Sails Up realizes that the last thing a cancer patient needs is additional stress as a result of this predicament. There are not many places to turn for assistance and Sails Up, with assistance from the Share the Love revenue, is proud to help fill this void."The Holmgren team and family have long been supporters of Sails Up 4 Cancer. We appreciate the organization for its unique niche in bringing much needed financial support directly to cancer patients and not through a third party," said Eric Holmgren, president of Holmgren Subaru. Davis, President and founder of SU4C is a two-time cancer survivor and has an intimate relationship with cancer and cancer patients. Eric and his wife Dawn, along with the staff at Holmgren Subaru, believe that because of Davis' experience with two cancers and his personal empathy with the agony that patients endure, he is the perfect person to address their needs. Having lived through the stress of cancer and loss of income, Davis is in a formidable position to support those suffering with the hidden ef- fects and stress that comes with a cancer diagnosis."We cannot just provide lip service to those in need of financial assistance. We must heed the call and respond effectively and efficiently in sending financial relief ," explained Davis, "Imagine receiving a check from Sails Up 4 Cancer. Not a check large enough to cure your cancer or pay off your mortgage or satisfy all your bills. But maybe, just enough to alleviate some financial stress - maybe just enough to know there is an organization that identifies with your issues and is here to help. Some people feel forgotten, helpless and lose all hope. Sails Up 4 Cancer, along with help from Holmgren Subaru, is here, and we care deeply.
---
Holmgren Subaru Helps Save the Sound - Annalisa P
Holmgren Subaru, along with some of their awesome customers, participated in the Connecticut Coastal Cleanup on Saturday, September 21st, helping to Save The Sound. The team helped clean the beaches and grounds of Harkness Memorial State Park. They collected 28 bags of trash, totaling 110lbs. Holmgren Subaru, a certified eco-friendly facility, has committed to making this an annual event.
---
Holmgren Subaru helps local Cancer Charity - Bob D
Sails Up 4 Cancer's collaboration with Holmgren Subaru and the Holmgren family,since 2013, is an integral part of our Spinnaker Fund, which provides help to patients in our community battling cancer. With few places to turn for assistance, Sails Up 4 Cancer fills this void. In 2018, Sails Up 4 Cancer, with Holmgren Subaru's generosity, was able to provide financial assistance to 48 families in our Southeastern Connecticut Community. Giving and philanthropy must be in the Holmgren DNA and has trickled down to their staff. Without the support of Holmgren Subaru, many people would be without much needed items that are out of their reach. As a two-time cancer survivor, I can attest and empathize to the struggles associated with stress due to loss of income. Many cancer patients have problems putting food on their table,paying for their medicine, their mortgage, rent and even utilities. Holmgren Subaru's donation of nearly $40,000 to Sails Up 4 Cancer has allowed us to provide financial assistance to some people who, without that support, would feel forgotten, helpless and lose all hope. Sails Up 4 Cancer is excited to continue partnering with Holmgren Subaru in helping to give back to our community and Sharing the Love.
---
Bringing Warmth and Love to the Cancer Patients! - Daniela V
Holmgren Subaru and The CTWHV Chapter of the Leukemia & Lymphoma Society (LLS) have partnered to make a difference in the lives of people battling cancer in the Waterford community. The partnership called Subaru Loves to Care provides warm blankets and loving messages of hope and inspiration written by Subaru customers to patients fighting cancer at the Lawrence & Memorial Cancer Center. HUGE Thank you to Holmgren Subaru for donating 80 beautiful blankets to Lawrence & Memorial Cancer Center to spread warmth to their patients. Patients are in the infusion center for hours at a time and these blankets keep them warm as they are going through treatments. On behalf of LLS and everyone fighting or in remission from cancer and the people who love them, huge and heartfelt thanks to Holmgren Subaru and the entire Holmgren Subaru family for joining the LLS mission to create a world without blood cancer.
---
Holmgren Subaru donates blankets to Smilow - Karen G
Staff at Smilow Cancer Hospital, Waterford Care Center, are sending out big thank you to a local business that recently made a very comforting donation to help patients going through treatments. Eric and Dawn Holmgren of Holmgren Subaru in Franklin stopped by the care center in Waterford recently to deliver more than 100 new, soft, cuddly blankets that staff will distribute to patients as needed. Customers from the dealership also took the time to write notes of encouragement to patients such as "I hope you feel better soon," and "Fight on! Don't think you cant beat this!" The Holmgrens, working in conjunction with the Leukemia and Lymphoma Society in Connecticut, have donated blankets for the past three years, and the Smilow staff in Waterford can attest to the reassuring benefits of giving these small but meaningful gifts to patients. "The patients - their smiles are so huge when we give them these blankets," said Cathy McCarthy, a licensed clinical social worker at the care center. "It's wonderful. It really makes a difference for people, because people going through chemotherapy often get cold, and this keeps them warm. And it gives them a sense that we understand, and that we're with them all the way." Karen Geary, a patient navigator at Smilow, Waterford, said the blankets, which are individually wrapped, are "beautiful...They're not as sterile as the hospital blankets we can give them. They're personal and they're cozy. Everyone loves them so much so we really thank Eric and Dawn Holmgren and the staff at Holmgren Subaru."
---
Holmgren Subaru helps make a difference for us - Bob D
No one is more prominent than Holmgren Subaru in our mission at Sails Up For Cancer to provide funding for cancer patients in our local community. The year-long commitment from Holmgren Subaru an incredible amount of valuable assistance and support to us. This year as in years past we are so honored to be chosen by Holmgren Subaru as its hometown charity in the amazing Subaru of America Share the Love Program. This amazing program last year resulted in a donation of over $30000. With the help of this donation, Sails Up was able to provide much needed financial assistance to 48 families with grants ranging from $500 - $2000. With the honor of once again being chosen as Holmgren's local charity and other charitable support from the Holmgren Subaru family, it is our anticipated goal that we will be able to help over 75 families with similar grants this year. I wish I could share all of the testimonials and thank you letters that we receive from patients. They are grateful, emotional, and surprised that when all hope seems lost, a small grass-roots organization is here to help. It is not easy to run a non-profit these days and to procure the funds needed to keep the mission alive. But with the help from friends like Holmgren Subaru and Subaru of America that mission can be realized and continue to be successful.
---
Holmgren Subaru Love Promise Drop Off - Stephen M
This was an extremely fun drop off to make. Holmgren Subaru really puts in the effort to make it a big deal and so did Lawrence & Memorial Cancer Center. They had a local radio host do a live feed video, professional photography, and the hospital had their PR person onsite taking quotes. It was an excellent presentation and I was just happy to be along for the ride and part of a tremendous display of giving and raising awareness for our cause. Dawn also shared her personal connection to LLS which, of course, makes it extra special for her.
---
Love Promise Delivery - Daniela H
On July 18, 2017 LLS staff member Traci Heath met with Vice President Eric Holmgren and his wife Dawn Holmgren at Holmgren Subaru (North Franklin, CT), to deliver 12 craft kits, 80 blankets and messages of hope, to Lawrence & Memorial Cancer Center. They were greeted by Cathy McCarthy and a few other of the staff at the facility who were very grateful for the donation to their patients. The blankets provide much needed support and "warmth" to patients fighting cancer. Erin and her team were grateful of the gift from Holmgren Subaru and could not wait to give the amazing blankets and cards of hope to their patients. Traci was able to see the Falcone Healing Garden, a beautiful garden that is a peaceful area that patients can go to sit and relax, reflect, and heal. Cathy was very appreciative of the donation for the patients and could not wait to pass the blankets along to them!
---
Holmgren Subaru supports Sails Up 4 Cancer - Robert D
No one is free from the wrath of cancer. Not men or women, young or old, black or white. Cancer doesn't discriminate, it chooses its victims at random and without warning. It can devastate families and rip the life right out from under you. Sails Up 4 Cancer is a non-profit corporation founded by a two-time cancer survivor who has an intimate relationship with cancer and cancer patients. Sails Up 4 Cancer fills a much-needed niche with patients suffering from this deadly disease. Sails Up 4 Cancer has a unique fund, called the Spinnaker Fund. This fund provides financial relief directly to families that are experiencing the stress when the loss of income occurs. Not only does Sails Up provide direct aid to families. It is also a principal contributor to the local Cancer Hospital's Transportation and Single Women's Patients Assistance Fund. Sails Up 4 Cancer has also been an ongoing benefactor for the local Hospice Care Center. It is for these reasons among others that Holmgren Subaru of North Franklin, CT continues to support Sails Up 4 Cancer and the related services it provides to the SE CT Region. Together, Holmgren Subaru and the Sails Up 4 Cancer Team is making a significant difference in the lives of those struggling with cancer. The photo attached is on a sailboat in the Mystic Irish Day Parade which attracts over 30,000 spectators.
---
Holmgren Subaru Loves Pets - Eric H
At Holmgren Subaru it is our goal to keep all animals safe and healthy. For every pet picture taken in our dealership this October and shared on our Facebook, Twitter or Instagram page #SNELovesPets will make a donation to the Angell Animal Medical Center that does an amazing job in the prevention of Cruelty to Animals.So please help us and let's have some fun doing it. Stop by anytime this month with your dog or cat, pose for a picture and collect your free gift.
---
Local Subaru delivers "warmth" to cancer patients - Courtney R
The Leukemia & Lymphoma Society was honored to join Holmgren Subaru for the delivery of their Love Promise Care Packages to Lawrence & Memorial (L&M) Cancer Center. When we brought in all of the boxes of blankets Cathy McCarthy, the Social Worker for the Cancer Center, broke down in tears! She couldn't believe that they were receiving this incredibly generous donation. It made such an impact that Mr. Tom Holmgren, owner of Holmgren Subaru, was present for the delivery, along with his son Eric and daughter-in-law Dawn. It was a genuine testament to Subaru's promise of community involvement. As we were wrapping up the delivery, we had the pleasure of witnessing one of L&M's patients celebrating his last day of treatment. Cathy explained that on a patient's last day of treatment they have the opportunity to hit the "gong" and say a few words. Right after, he went around to hug all of the staff members to thank them for helping him through the last grueling months of treatment. You could tell that the staff at L&M Cancer Center really made this a comfortable and uplifting place for their patients. By the end of the ceremony The Holmgren's and I were both in tears at how moving this experience was, and agreed that we picked the perfect place to donate these Care Packages and Care Cards to. A huge thank you to Holmgren Subaru for making this incredible impact in their local community.
---
Holmgren Subaru Sponsors Sails Up For Cancer - Bob D
SU4C's mission statement really says it all. SU4C is a non profit organization dedicated to funding research in the education, prevention, and care for all types of cancer through the art and enjoyment of sailing. Holmgren Subaru has been proud to sponsor SU4C for the past 2 years with several different fund raising drives and also has been active in raising awareness of SU4C.
---