The 2023 Subaru Love Promise Customer and Community Commitment Award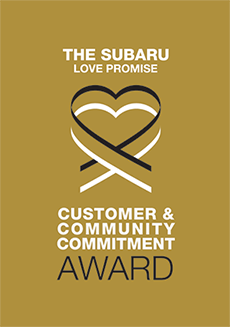 We've been nationally recognized for our dedication to our customers, our community, and the Subaru Love Promise.
We're honored to receive the 2023 Subaru Love Promise Customer and Community Commitment Award. This award nationally recognizes elite Subaru retailers who provide an exceptional customer experience at every interaction with Subaru. These retailers have also demonstrated an outstanding commitment to supporting passions and causes in their local communities in important areas such as the environment, community, health, education, and pets.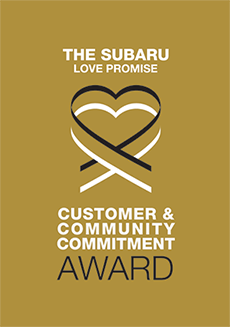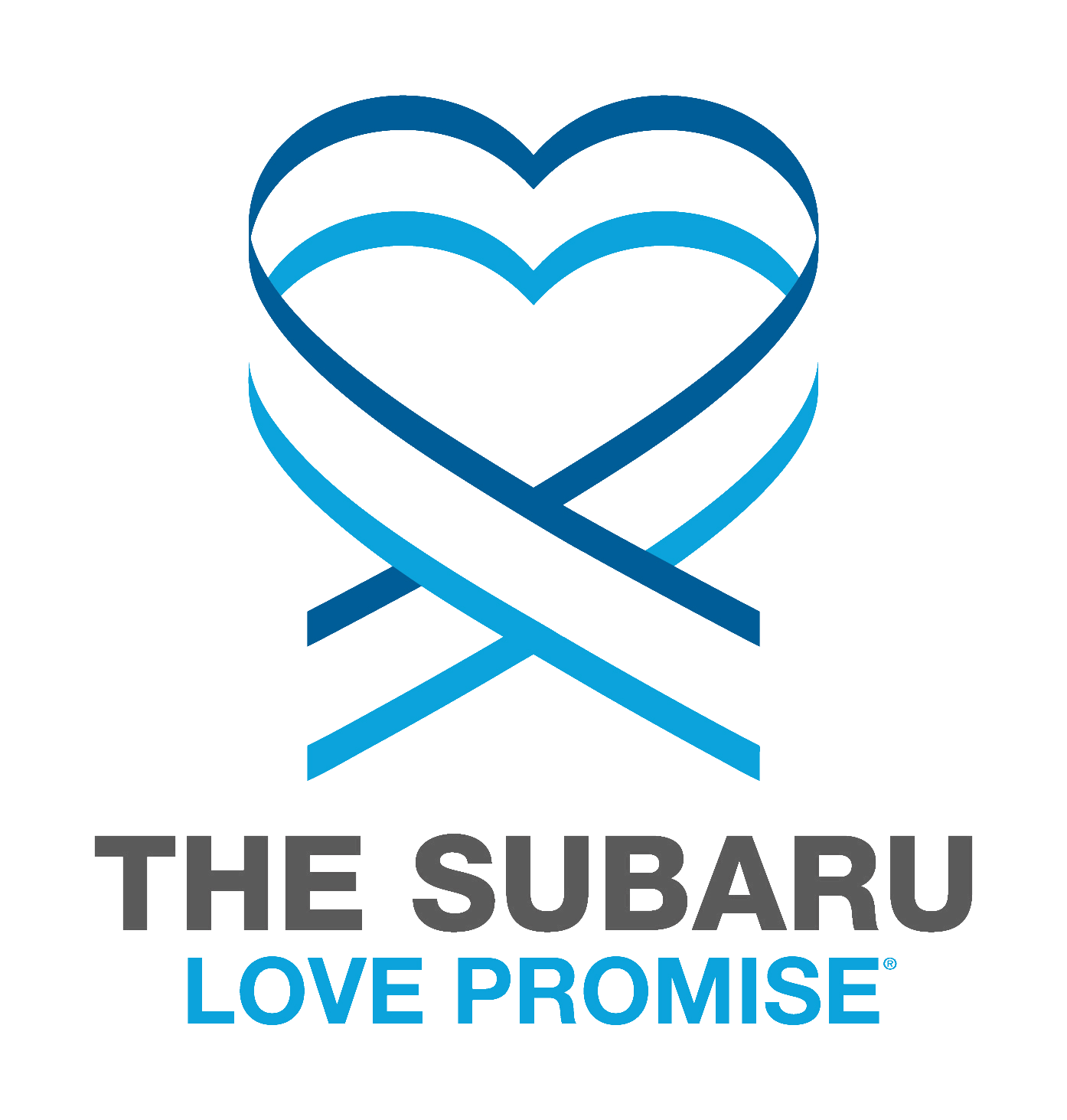 What is the Subaru Love Promise?
Subaru and our retailers believe in making the world a better place and the Subaru Love Promise is our vision of respecting all people. This is our commitment to show love and respect to our customers and to work to make a positive impact in the world.
How is Holmgren Subaru dedicated locally to the Love Promise?
Our Love Promise can be seen in various partnerships with local charities and non-profits. We're grateful for the opportunity, not only to be a part of our community, but to serve it as well.
Wings of Freedom Animal Rescue
Adopt A Highway, CT Fund for the Environment/Save the Sound
Franklin Elementary School
Community Speaks Out, Community of Hope, Holy Family Home & Shelter, Connecticut Food Bank
Sails Up For Cancer, Leukemia & Lymphoma Society, St. Jude
Love Promise Stories from Holmgren Subaru
Subaru and Holmgren Subaru believe in making a positive impact on the communities in which we live and work. We uphold that belief through our Love Promise Community Commitment. Every month, we select inspiring stories from customers and partners from around our area who strive to support our collective commitment and feature them here
Holmgren Subaru and Community Speaks Out Help Individuals and Families Struggling With Addiction - Tammy D
Community Speaks Out's mission is to improve our community by providing education, prevention and resources to individuals and their families affected by drug/alcohol addiction. We were founded by four New London County residents in response to a lack of a support system in the community for families facing addiction. Currently our crisis is fentanyl. We are constantly educating ourselves and adapting to what is needed in our addicted communities. We are simply people helping people. We listen to those who have been affected by the disease of addiction and assess their needs. We then offer our assistance by connecting those in need to recovery facilities, support groups, agencies, or other family support related entities. We are proud to say that we have been adapting to the needs of our community and have increased programing to include prevention and education, a high priority since the start. We saw a need and have implemented a youth empowerment support group to help young people under the age of 18 stop the cycle of addiction that has impacted their lives. We have also added a grief group for families and friends who have lost someone to addiction. Our goal is to provide a healing space and community to holistically cope with the loss of a loved one. Our partnership with Holmgren Subaru means so much to our team. It goes way beyond the monetary help that we have received. Holmgren Subaru is a highly respected and well-known business, so by choosing our organization they have helped spread light on a problem that so many are afraid to get help for. Because of the visibility that we receive through Holmgren Subaru and the Subaru Share the Love® Event, I have been able to personally connect with individuals who reached out for and received help. Our hope is that someday one of these individuals will feel comfortable stepping forward to tell their story and in turn to help others. The positive impact that Holmgren Subaru has had on our community is a big one. The money we have received goes a long way. All donations go directly to helping people, since our board members are all nonpaid volunteers without salaries or benefits. People have been saved because of Holmgren Subaru's generosity, helping us to end homelessness within the recovery community. Many times, those who receive help and complete treatment have nothing and nowhere to go. Obstacles are triggers for recovery. Without support and funding, none of what we do to help people would be possible. We are very grateful for our partnership with Eric, Dawn and the entire team at Holmgren Subaru. Respectfully, Tammy de la Cruz Founder/Vice President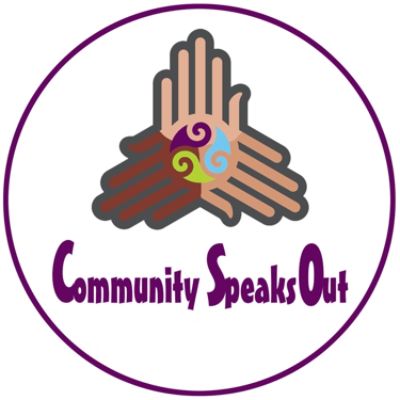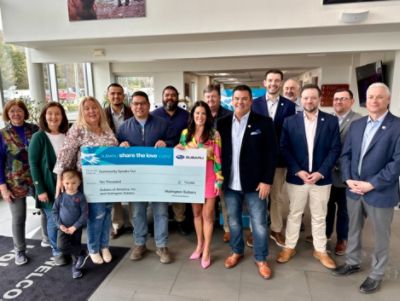 ---
Herbie's Story- Throw Away to Loved Family Member - Kathy W
Wings of Freedom Animal rescue is extremely grateful for the many years of support given to us from Holmgren Subaru. The partnership that we have formed has had an incredible impact on the lives of many dogs. Allow me to share one such example of a very special dog. In late July we were contacted about a critical case. A dog was found chained to a tree with a tire chain and choke collar. He had pulled on the chain so hard that he had an embedded collar done to the muscle layer. We named him Herbie the Love Bug because even in immense pain he loved everyone he met. Herbie was rushed to an emergency vet where he was initially treated and spent 3 days. From there he went to our expert medical foster in SC for 3 weeks before coming to CT to another foster who was experienced with open wounds and bandage changes. Herbie had a long road to be completely healed, including six weeks of laser therapy to close his wounds. After he was healed he spent two weeks with a trainer. He spent his life pulling on that chain and he needed to learn how to walk on a leash with only a harness (he can never have a collar used to walk him). It was clear he just wants to please, he learned sooo much and is now a very well-behaved boy. Herbie not only loves people but he loves every dog he meets too! He has grown into such a wonderful dog who is dog, cat and kid friendly. Herbie has a lust for life, exuding pure joy when you meet him. It's as if he actually has a smile on his face. We are happy to report that Herbie has met his new Dad and it was love at first sight! We have rescued almost 2800 dogs, but only a handful have a story like Herbie's. He is why we do what we do – "speak for those who have no voice". We are proud to wake up every day knowing we have made a difference in his life. Stories like Herbie's are only made possible with the help and support of volunteers and partners like Holmgren Subaru, who has hosted many adoption events for us. We are always welcomed with warmth and kindness, lunch and beverages for our volunteers and most especially, love, toys and treats for our adoptable dogs. Thank you Holmgren Subaru!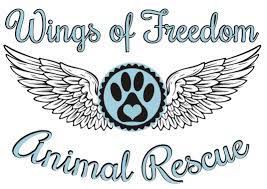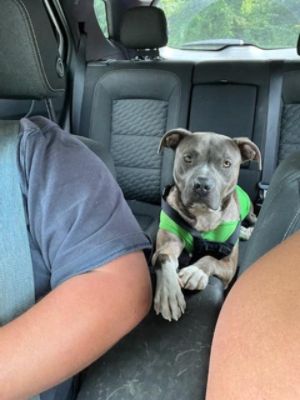 ---
A Great Day to Be a Dog! - Cary M
What a Great day to be a dog! Hi, my name is Jack and I am here to tell you about the great day I had with the special people at Holmgren Subaru at their "Make a Dogs Day" event, organized by this really nice lady named Dawn. I think she works there cuz everyone knows her. She's very nice and did a really good job making sure all of us had lots of treats and toys. And we got to play with the balls and go through the tunnel. That was so much fun! But best of all, we got to make new friends. There were some dogs there that she was trying to help get adopted so they can have a forever home with forever humans to love them, for like forever! She is a special lady to do all that. My mom and dad love going to Holmgren Subaru to buy their cars so they can take me for long rides but this day was just for me!! Thank you to Miss Dawn and everyone at Holmgren Subaru for all of your hard work to make this day so special. Can't wait to see you all next year! With woofs and licks, Jack Maikranz Sr. Labrador at the Maikranz Household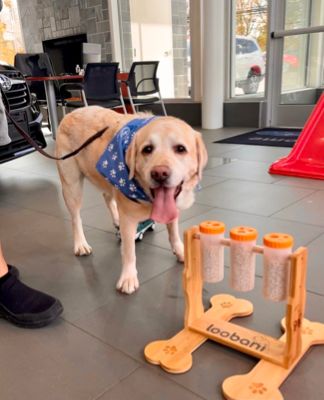 ---
Holmgren Subaru Helps Clean Connecticut's Beaches - Annalisa P
Save the Sound was happy to hear that Holmgren Subaru was enthusiastically willing to participate in the Connecticut Cleanup for a fourth year in a row! Holmgren Subaru coordinated a cleanup at their local beach, recruited volunteers, and made a huge impact on reducing the amount of trash that will end up in our waterways and Long Island Sound. Holmgren Subaru went above and beyond by promoting the cleanup on social media, providing beverages and snacks, Subaru swag, and team t-shirts for all volunteers. September is International Coastal Cleanup month, so the volunteers at Holmgren Subaru's cleanup joined about a half a million other volunteers all around the world for this major effort. No piece of trash is too small to be picked up, as it all adds up, and has an enormously detrimental impact on our local and global ecosystems. Subaru's volunteers understand this and really did a great job at cleaning up their beach. Thank you, Holmgren Subaru!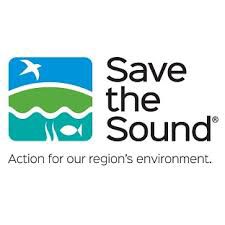 ---
Thank You Holmgren Subaru for Adopting Stanton Elementary School - Susan L
The teachers and entire administrative staff of Stanton Elementary School want to thank Holmgren Subaru for their continued kindness and support. Our relationship with Holmgren Subaru began in 2021 while we were still in the midst of Covid protocols. Our first supplies were sent to us from Holmgren Subaru in partnership with AdoptAClassroom.org. When the Covid restrictions at our school were lifted, Holmgren went above and beyond by delivering a second batch of school supplies to ensure our students success through the end of the year. In addition to both school supply deliveries in 2021, Dawn and Eric Holmgren, along with members of their team, delivered a delicious catered lunch to our entire staff of teachers and administrators during Teacher Appreciation week. In August of 2022, Holmgren Subaru delivered messages of appreciation for our teachers, school supplies in recyclable plant boxes, and pastries that were enjoyed by our staff at our first meeting, on the day before our students arrived. All of us at Stanton Elementary School are very thankful for their partnership and generosity to our community. We look forward to working together for many years to come.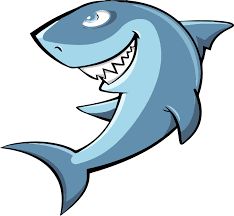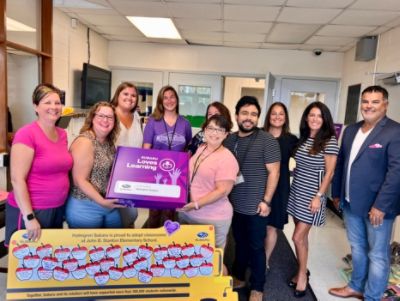 ---
Grateful to be a Holmgren Subaru Love Promise Recipient - Michelle D
Dear Holmgren Subaru Friends, Our family has been a part of your Subaru family since I can remember. We have always owned a Subaru or referred people to Holmgren Subaru because of the personal and caring service we have received throughout the many cars and years. I want to write this letter to express my deepest gratitude for choosing me to receive your amazing Subaru Love Promise just when I needed it the most. I was shocked and could not believe that a car company actually offered something so special to hard working people that are in need of a little extra help in life with their car repair. Holmgren Subaru truly is a place full of compassionate people who genuinely care and give back to the community. Last year I was involved in a car accident. I was hit head on by a woman who was texting and driving. Fortunately, we both survived. However, I was left with permanent damage to my arms and hands. That seems like something that I should be grateful for, which I am. But the problem with this is that my livelihood as a floral designer has been forcibly stripped away out of no control of my own. I have always ben one to persevere and carry forward so that is what I have done. I am enrolled in Kaplan Financial to become an insurance agent that will allow me to work from home. Only two more weeks left and I will take the State of CT test to be on my way! Dawn and Eric, Jason and Jake, Kristen and everyone else, just THANK YOU! Your thoughtfulness and willingness to help me get what I need done without bringing any further stress to my life is something I will always remember. I am feeling every bit of The Holmgren Subaru Love Promise! My promise to you is to keep the referrals coming forever. I simply cannot thank you enough. Warm regards, Michelle Duthrie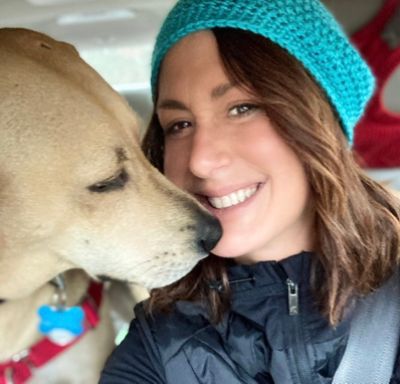 ---
Holmgren Subaru Delivers Comfort & Warmth to Cancer Patients - Sarah W
Thank you to Holmgren Subaru for working with the Leukemia and Lymphoma Society and generously donating over 80 warm and fuzzy blankets to patients in active treatment with Hartford Healthcare's Cancer Institute. We are so appreciative of the delivery of blankets and amazing messages of encouragement to be shared at our various infusion sites in the East Region. Many times patients get chilly during these infusion treatments. Many have already reported that the blankets are quite cozy and warm. It is so wonderful to have a local business show continual support to our patients during such a trying time in their lives. We are forever grateful for the support from Holmgren Subaru and look forward to many more years of working together and sharing with patients in need of a little extra comfort.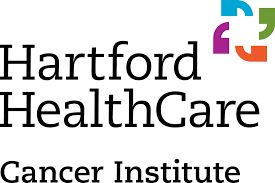 ---
205,000 Miles, 13 Years, and Still Going Strong! - Jean O
Dear Holmgren Subaru, 205,000 miles, 13 years, and my Outback is still going strong. We can't thank you enough for what you did for our car today. This car has seen me through thick and thin and I don't know what I would do without it. The outside of the car is a little worn, but even I brag about that engine and what it can do. By the way, you have to give credit to your service team for keeping her in tip top shape. I do intend to get a fourth Subaru someday, but for now we are content to keep this beauty purring.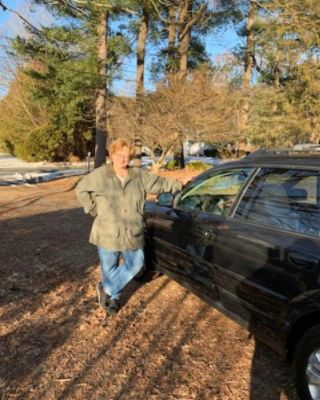 ---
People Helping People - Cheryl B
Community Speaks Out is humbly honored to have received a check in the amount of $10,000 from Holmgren Subaru from their annual Share the Love event as well as an additional check for $2500. Community Speaks Out is a non-profit organization whose mission is to improve the community by providing education, prevention, and resources to individuals and their families to access treatment and recovery. To be chosen by Holmgren Subaru as a recipient of such generosity validates the commitment that Holmgren Subaru has to its community including individuals who struggle with the disease of addiction. This incredibly generous donation will help Community Speaks Out to continue our work, which includes hosting family and youth support groups each month at our office, providing educational forums at schools throughout southeastern Connecticut, partnering with other agencies at wellness fairs, and organizing recovery activities including our annual Sober Softball Tournament and Community Speaks Out annual gala, where we will acknowledge the generosity of Holmgren Subaru. We thank the Holmgren Subaru family for your generosity and compassion and helping us do what we do….People Helping People.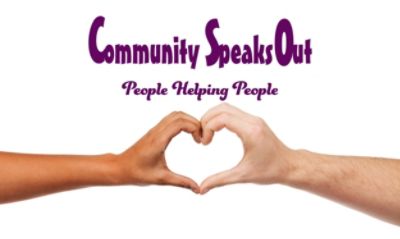 ---
Partnering to Give Financial Support to Patients - Robert D
For the past twelve years, Holmgren Subaru of Franklin, CT has been the most consistent and generous supporter for Sails Up 4 Cancer. We have a wonderful lasting relationship which has helped catapult us to one of the leading charities in southeast Connecticut. More recently, over for the past eight years, with the collaboration of the Share the Love Campaign, we have been the fortunate recipient of over $200,000. The donations from Holmgren Subaru illustrate how important a role they have played in our mission. Thanks to their generosity, Sails Up 4 Cancer has provided direct financial support to hundreds of families and helped to alleviate their agonizing stress. Each year we look forward to working with Holmgren Subaru and can assure them that every dollar will be going directly to cancer patients. For that, we are extremely grateful. Sails Up 4 Cancer is a "community centric" charity, meaning that the money we receive remains in and is distributed throughout our community. This is to a large extent a big part of Holmgren Subaru's philanthropic business model. Together, we are able to make a difference in the lives of those affected by Cancer in our community. Working with Eric, Dawn and the entire team at Holmgren Subaru for the past twelve years has been a dream come true for Sails Up 4 Cancer, and we look forward enthusiastically to twelve more.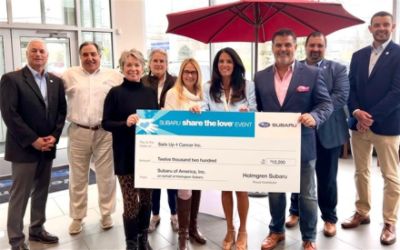 ---