#1 Volume Dealer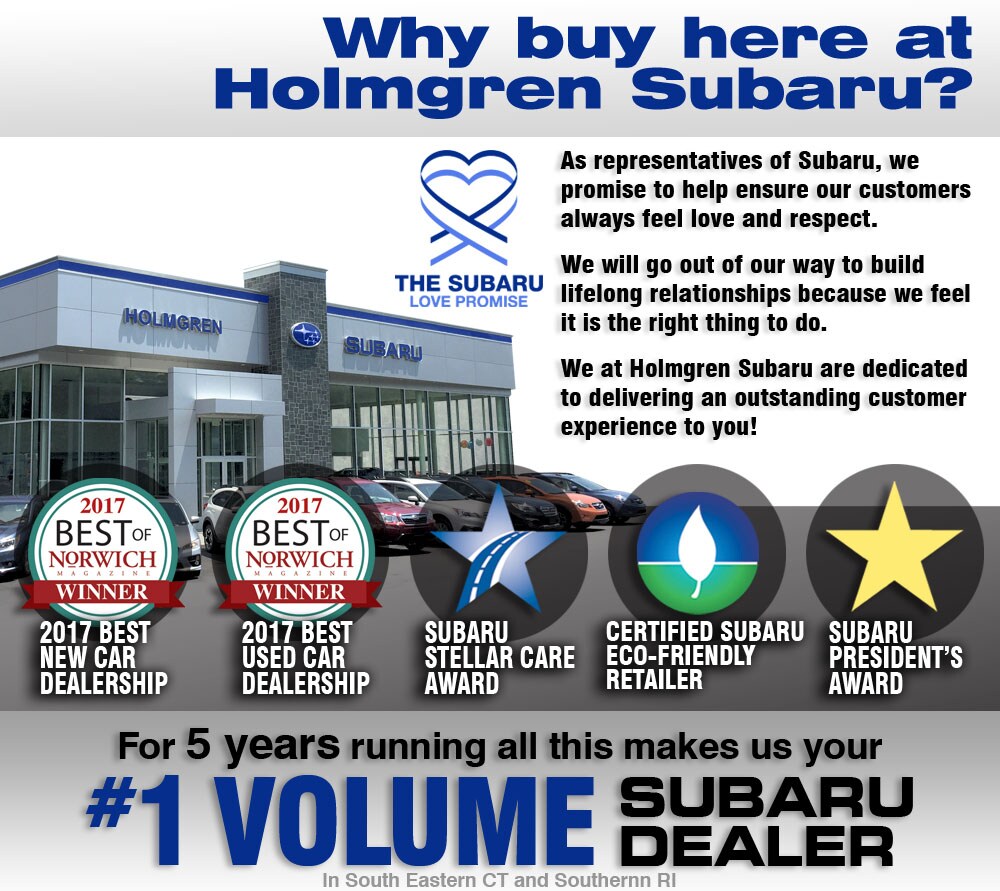 Why Buy at Holmgren Subaru
Buying a car should not be a stressful high-pressure experience.  You should expect to be treated with straight forward honest pricing - no gimmicks.  We will not leave any hidden charges out of our price quotes nor will we ask for artificially high prices just to negotiate with you.
We are a family owned and operated dealership that has spent over 40 years in one location building a reputation for world class service.  We realize that how you are treated after you purchase a car is what separates a dealership.
Over the last several years we have become one of Southern New England's leading internet dealers and southeastern CT's number #1 volume dealer because we follow some very basic principals:
At Holmgren Subaru:
We provide no gimmick price - no left out fees or charges.
We provide prompt, courteous and professional answers to all your requests.
We respect your wishes - if you prefer to communicate with us via email only, please let us know.
We listen to your needs and HELP you find the car you want instead of trying to "sell" you something.
We are very transparent - we'll show you everything. Being an educated customer is very important. We realize that the real cost of a car is just a click away so we are more than happy to show you everything and anything.
We work very hard for our internet customers - we are always available to answer your emails promptly.
Stellar Care Award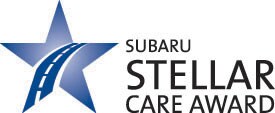 The Subaru Stellar Care Award is given to the most keen, committed and reliable Subaru dealerships in the United States. The Subaru Stellar Care award is evidence of the hard work and devotion in every aspect of a dealership.  Holmgren Subaru was honored to be the 2014 Stellar Care Award recipient. This huge accomplishment couldn't have been possible without our loyal customers and assisting them in their car buying experience and beyond.

In order to earn the Stellar Care Award, we must pass continual reviews by our customers and meet annual expectations that are established by Subaru of America, Inc.
These include:
Facility
Sales Operations
Training
Finance Department
Click on the link below to find out more about our Stellar Care Award!
Stellar Care Award
Customer Reviews
At
Holmgren Subaru
, we care about you - our valued customers. And we want to know what you have to say about us!
Our customers, new and old, have great things to say about Holmgren Subaru! Customers appreciate our honesty, professionalism and positive atmosphere coming into the dealership. We bring the Subaru love and care into our maintenance services too.
Please feel free to share your story and experience with us! Many of our customers are returning Subaru buyers; we welcome anyone who is a first time buyer or a Subaru veteran. We value you as a customer and your reviews reflect us tremendously into helping you and future Holmgren Subaru owners.
Check Out Our Customer Reviews
Subaru Love Promise

The Subaru Love Promise is our dealership promise to help and serve the community by collaborating with nonprofit education programs, health, community, environment, and animal organizations and help fulfill their needs and goals. We are proud as a d
ea
lership to make an impact and help those in need in our community.



Our Promise
Guaranteed Trade In Program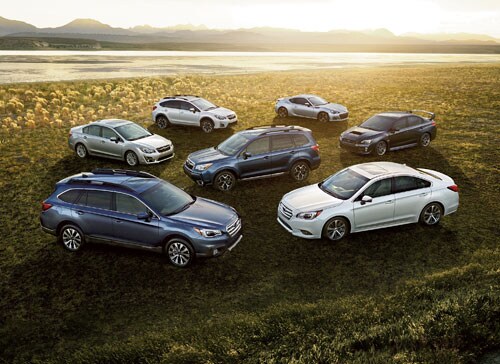 Our
Subaru Guaranteed Trade-In Program
is an exclusive proposal with Subaru owners that pledges a guaranteed trade-in amount for a qualified Subaru upon purchase of a new Subaru.
"Lasting value for as long as you love your Subaru". Another reason to continue to love
Holmgren Subaru
and our Subaru Guaranteed Trade-In Program.
Find Out More About GTP
About Our Dealership
Turn to Holmgren Subaru in North Franklin for Affordable Prices and an Honest Experience
When customers visit us at Holmgren Subaru in North Franklin, they expect a wide variety of new Subaru models to blow them away. But at our family owned and run dealership, we've spent over 40 years going above and beyond, extending the excellence you find with our new Subaru models on our showroom floor to our pre-owned Subaru models and our onsite Parts and Service Centers. We understand that how we treat you after your car purchase is just as important as the time you spend at our dealership, which is why our award-winning sales team makes themselves available to all your questions and  auto repair and service needs.
Our Subaru car dealership has served neighbors in North Franklin, Hartford, Middletown, New London, and Norwich for decades, providing a relaxed, family-centered atmosphere where our goal is to keep the momentum going from the moment our customers find the car of their dreams to the moment they drive off the lot. We work hard to eliminate the guesswork from the car-buying process as the dedicated and knowledgeable members of our Finance Center create payment and lease plans that relieve our customers and help move the process along. Working with local and national financial institutions, our team can ensure honest, safe payment plans for all our Subaru-seeking customers.
No games, no gimmicks, just a true partnership with the shared end goal of seeing our customers happy behind the wheel. Call us today to schedule a test drive and visit our dealership, conveniently located at 3 Park Avenue in North Franklin, CT.
Contact Us About Subaru Vehicles:
Hours
Monday

9:00AM-7:00PM

Tuesday

9:00AM-7:00PM

Wednesday

9:00AM-7:00PM

Thursday

9:00AM-7:00PM

Friday

9:00AM-6:00PM

Saturday

9:00AM-5:00PM

Sunday

Closed
Get Directions to our North Franklin CT Dealership:
Get Directions